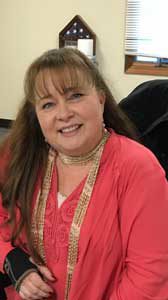 Melissa M. Burt, M.S., CCC-A
Melissa Burt grew up on Cape Cod in MA, where she worked as a Sign Language Interpreter for many years prior to going back to college to become an Audiologist. Melissa earned her Bachelor's degree in Communication Disorders from the University of New Hampshire, then went on to earn her Master's degree in Audiology at Southern Connecticut State University. After working as an Audiologist in MA for 10 years, she decided to move to NH. She is a board certified member of the American Speech Language and Hearing Association and licensed in MA and NH. Melissa is now a happy member of the team at Better Hearing Center. You will find Melissa to be passionate about working with patients to help facilitate better quality of life.
Veronica (Nique) Foley, M.S., CCC-A
Nique was born in Springfield, Massachusetts but grew up in New Orleans, Louisiana and Knoxville, Tennessee and started her family in Albuquerque, New Mexico. She now calls Amherst, New Hampshire home. She earned her Bachelor of Science degree in Special Education/Speech Pathology at the University of Tennessee and her Master of Science degree in Audiology at the University of New Mexico. Nique's 30+ years of experience were accumulated in a variety of settings with varied populations and age groups. She is licensed to practice Audiology in the State of New Hampshire and is a Board Certified Member of the American Speech/Language and Hearing Association. Nique believes providing quality hearing healthcare is a blend of skill, compassion and rapport. She considers herself fortunate to be associated with the Better Hearing Center, which shares these beliefs and prioritizes patient satisfaction.